Future becomes a reality.
Because the reality of the industrial rubber articles for the shoe sector and its components depends of its continuous applications to new productive models, production process and technical and chemical innovations.
This is the reason for which in CASLITE we are conscious of the importance and the need to focus an important part of our resources to research, development and innovation. We want new ideas to become a reality turning into technical improvements, in more developed products and in more sustainable production processes. This philosophy has helped us grow and enlarge our product range, turning each of the progresses into different article creations with rubber as the main character and raw material: rubber sheet for the footwear industry, pavements and rubber sheets for the repair sector. 
Anticipation is a competitive advantage not only for us, but also for you, because you may take the chance of exclusive early trends not to the reach of everyone. In a market with multiple options, it is always interesting to differentiate yourself with the added value of counting with unique products that will lead you in front of the competition and make your work more attractive to the final customer.
Because CASLITE is progress and constant evolution. It is leadership in the footwear and pavement sectors. Leaving your mark tomorrow depends on your innovation activity today.
Proyecto realizado con Ayuda Financiera del Instituto Valenciano de Competitividad empresarial (IVACE).
Proyecto: IMPLANTACIÓN DE UN SISTEMA MES CON CAPTACIÓN DE DATOS DE PRODUCCIÓN Y PROCESO EN PLANTA EN TIEMPO REAL.
Nº Expediente: IMDIGA/2016/323
Programa: PROYECTOS DE DIGITALIZACIÓN DE PYME (DIGITALIZA-CV)
Ayuda Concedida: 9.579,61 Euros
"Proyecto cofinanciado por los fondos FEDER, por haber sido seleccionado en el Programa Operativo FEDER de la Comunidad Valenciana 2014-2020"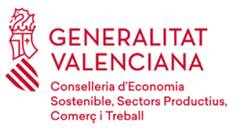 Programa de ayudas para mejorar la competitividad y sostenibilidad
CÁSTER ha participado en el Programa de ayudas para mejorar la competitividad y sostenibilidad de las pymes industriales del sector del calzado de la Comunitat Valenciana para el ejercicio 2018, dentro de la primera fase de implantación del Plan Estratégico de la industria valenciana según Resolución de 27 de Diciembre de 2017 (DOGV 8201 de fecha 29.12.2017).
Actuación Subvencionada:
Plan 2018 de Industrialización y Competitividad de CÁSTER
Nº Expediente: INPYME/2018/414
Subvención Concedida: 47.069,88 Euros